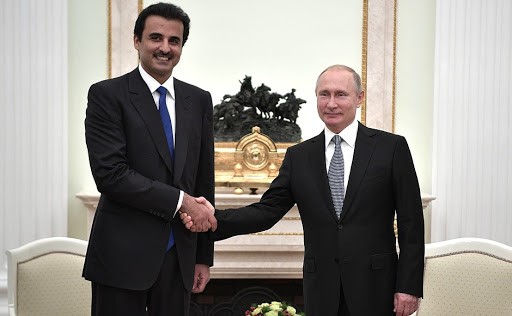 Qatar is one of Russia's strategic partners in the Middle East. The volume of trade between Qatar and Russia has risen sharply in the last two or three years. It was noted that in the first half of 2017, trade exchange between Russia and Qatar reached about 66 million riyals, and 41 Russian companies were already working in Qatar, including 40 joint companies with Russian-Qatari capital in the amount of 20.1 million riyals and 1 company, whose capital is 100% Russian[1]. In September 2017, the Qatari Fund's investments in Russia were discussed as possible partner, in particular, in the construction of a large hotel complex in the Crimea, at Pulkovo Airport (St. Petersburg), Gazprom PJSC Moscow and Rosneft OJSC Moscow[2]. The parties agreed to submit to the Fund in Russia other projects in various industries with the aim of studying them and investing in their implementation[3].
In 2018 the trade exchange has risen by 243.7% and amounted to 1.06 billion Qatari riyals, compared with 307.6 million in 2017, according to the Minister of Trade and Industry of Qatar Ali Al-Kuwari[4]. In the nine months of 2019, mutual trade between Russia and Qatar reached $ 53.5 million. As of November 2019, Qatar counts more than 50 Russian-Qatari companies created through mutual investments[5].
However, one of the richest countries in the world is interested not only in trade with the Russian Federation, but also in Russian investments. The leadership of Qatar has developed the economic development program "National Concept for the Development of Qatar until 2030" (QNV2030) that strives for a more diversified and productive economy, a shift from an oil and gas to a knowledge-based economy, while maintaining their national identity. Qatar is proud of the number of Russian-Qatar joint ventures that already exist – today about 50 Russian companies operate in Qatar; the number of agreements signed in the field of sports, civil aviation and education, as well as various cultural exchange programs[6]. 2018 was the Year of Culture of Russia and Qatar, during which cross-cultural programs in the field of fashion, music, visual and performative arts were implemented. This is the proof of not only the growing business potential that Qatar offers to Russian companies, but also their strong friendship and bilateral relations[7].
In August 2019, VTB Bank PJSC Moscow bought 19% of Qatari CQUR Bank LLC Doha[8]. The other investor of the Bank is Amathus Investment Fund Spc Ltd Road Town, BVI[9]. The authorized capital of the bank is $ 100 million[10]. Non-Executive Director – Chairman of the CQUR Bank LLC Doha is Dr. Vladimir Zrazhewski. From 2011 to 2019, he was Deputy CEO of RCB Bank Ltd in Cyprus. Prior to that, Dr. Zrazhewski held numerous top management positions at various banks in Russia: M2M Private Bank JSC Moscow, Expobank LLC Moscow, Lоckо-Bank JSC Moscow, Neftekhimbank JS Commercial Bank Moscow. Dr. Zrazhewski started his banking career in 1993 in the Central Bank PJSC Moscow of Russia[11]. Another Member of the Board is Ziad Al-Amin (He had a 15-year career as investment banker with UBS AG Zurich (UK) in numerous senior positions[12]. Early in his career, Mr. Al-Amin also worked for Merrill Lynch & Co. Inc. New York. In 2012, he joined VTB Capital JSC Moscow as Executive Director for the Middle East region. Mr. Alamin also served as the head of Dubai office for RCB Bank Ltd Limassol (formerly known as Russian Commercial Bank)[13]. Another one is Vladimir Ostrovskiy – who joined Neftekhimbank JS Commercial Bank Moscow in 1993 and developed his 25-year career in ProbusinessBank OJSC Moscow, VTB Bank PJSC Moscow, Bank of Cyprus, Nicosia, UniastrumBank LLC Moscow and RCB Bank Ltd Limassol[14]. A Non-Executive Independent Director of Qatari CQUR Bank LLC Doha is Nicolas Anastasis Neophytou (was a partner at PricewaterhouseCoopers, heading Tax department and Global Corporate Services department of the company's office in Limassol[15]. Since his retirement, Nicolas A. Neophytou is serving on the board of several multinational companies in diverse industries including Energy, Agriculture, Banking, Estate and Private investment sectors) [16], as well as Vladimir Sokolov (who started his financial career in the Central Bank of Russia, Moscow where he holds different positions such as Deputy Treasurer, Managing Director of the International Monetary Department and a member of the Monetary Policy Committee[17]. Mr Sokolov was also a member of the Supervisory Board of the Moscow Interbank Currency Exchange. In 2010, Vladimir Sokolov became the member of the Supervisory Board of VTB Bank (Austria) AG Wien followed by his appointment as a member of the International Board of Banco Finantia SA Lisboa, Portugal[18]. In 2016-2018, he served as a non-executive director of the Supervisory Board of VTB Bank (Austria) AG Wien[19].
On the 14th of December 2019, the session "Development of the High-Tech Sector in Russia: Prospects for Venture Investments" in the capital of Qatar, Doha was held. At the meeting, the signing ceremony of the agreement on the creation of a joint working group to coordinate activities in the field of investment and business projects between the Roscongress Foundation and the Qatar Investment Promotion Agency (IPAQ) took place[20]. At the end of December 2019, an agreement on the abolition of visas was signed between Russia and Qatar.[21] Now, citizens of Russia and Qatar with an international passport can come to Qatar and Russia for no more than 90 days without additional formalities[22].
At the end of May 2020, a telephone conversation took place between Vladimir Putin and the Emir of the State of Qatar, Tamim Al Thani: they reached an agreement on establishing direct cooperation between ministries of health in the field of counteracting the spread of coronavirus infection, and it was also agreed to continue cooperation in the framework of the preparation and holding of the World Cup in Qatar in 2022[23]. There is a special Russian-Qatari Business Council, created "to promote cooperation between Russian and Qatari companies, strengthen historical ties and realize broad opportunities for developing trade and economic relations between Russia and Qatar"[24]. Akhmet Magomedovich Palankoev is the Chairman of the Council and Lyanov Adam Magometovich is its Vice-Chairman[25].
Akhmet Palankoev is a Russian businessman, president of Acropol Group OOO Moscow (having the same postal address ah Russian-Turkish and Russian Qatari Business Councils)[26], a member of the Federation Council of the Federal Assembly of the Russian Federation (2011—2016). Prior to being elected a representative to the Federation Council from the legislative body of state power of the Republic of Ingushetia – deputy of the National Assembly of the Republic of Ingushetia[27]. As well as President of Kommercheskiy Bank Acropol ZAO Moscow (KB Acropol ZAO Moscow), the Bank started its activity in 1994[28]. It is known that Palankoev sold his part of the shares in the Bank in February 2020 to Yevgeniy Davydovich – ex-General Manager of Svyaznoy Bank CJSC Moscow and BinBank PAO Moscow, now he is the President of Svyaznoy Group of companies (large retail chain in the high-tech segment)[29]. Akhmet Palankoev is also a Chairman of the Russian-Turkish Business Council (which is situated at the same building as Russian-Qatari Business Council in Moscow: Bolshaya Nikitskaya street 44, building 2)[30], chairman of the Russian-Qatari Business Council at the Chamber of Commerce and Industry of the Russian Federation, founder of the Azan charity foundation[31].
The business partner of the both Councils (Russian-Qatari and Russian-Turkish) is ICBA – International Center of Business Assistance (the commercial organization that helps to implement and participate in business initiatives between business communities of different States and regions[32]. The Management of ICBA: Palankoev Akhmet Magomedovich (Chairman of the Supervisory Board), Adam Lyanov (President of ICBA), Hristo Hristov – Authorized Trading Advisor (official representative and coordinator of ICBA projects in Turkey, Europe and Asia), Olga Pereligina (CEO), Alexey Egarmin (Advisor), Lors Chapanov (Head of strategic projects Department), Hakan Cihaner (Head of office in Bodrum (Turkey), Murat Ozturk (Official representative of the ICBA in Turkey), Timur Kayiran (Specialist in Turkish direction), Kirill Moiseev (Middle East countries specialist), Veselin Marinov (Official representative of the ICBA in Africa)[33].
ICBA has different investment projects already realized and searching for investment capital, for example, a pipeline from Mozambique through Zambia and in DRC as a final destination (the total estimated cost of the project is 2,5 billion dollars). Or mining and sale of coal by the Donugol OJSC company. All the investment projects can be seen at the official web page of the organization[34].
TAG: Russia, Qatar
Category: Geopolitics
[1] https://russiaqatar.ru/vizit-delegacii-rossijsko-katarskogo-delovogo-soveta-v-katar/
[2] https://russiaqatar.ru/vizit-delegacii-rossijsko-katarskogo-delovogo-soveta-v-katar/
[3] https://russiaqatar.ru/vizit-delegacii-rossijsko-katarskogo-delovogo-soveta-v-katar/
[4] https://russiaqatar.ru/vizit-delegacii-rossijsko-katarskogo-delovogo-soveta-v-katar/
[5] https://regnum.ru/news/2785098.html
[6] https://regnum.ru/news/economy/2799421.html
[7] https://regnum.ru/news/economy/2799421.html
[8] https://www.vtb.ru/akcionery-i-investory/raskrytie-informacii/ezhekvartalnye-otchety-ehmitenta/
[9] Found this: https://amathus.com/about-us/ – to check if the company is the part of the Group
[10] https://www.rbc.ru/rbcfreenews/5d553c209a79479ca0a27f85
[11] https://www.cqurbank.com/board-of-directors/
[12] https://www.cqurbank.com/board-of-directors/
[13] https://www.cqurbank.com/board-of-directors/
[14] ???
[15] https://www.cqurbank.com/board-of-directors/
[16] https://www.cqurbank.com/board-of-directors/
[17] https://www.cqurbank.com/board-of-directors/
[18] https://www.cqurbank.com/board-of-directors/
[19] https://www.cqurbank.com/board-of-directors/
[20] https://russiaqatar.ru/ahmet-palankoev-i-adam-lyanov-osetili-sessiju-razvitie-sektora-vysokih-tehnologij-v-rossii-perspektivy-venchurnyh-investicij-v-stolice-katara-dohe/
[21] https://twitter.com/MID_RF/status/1210562607251410947
[22] http://publication.pravo.gov.ru/Document/View/0001201912160040?index=0&rangeSize=1
[23] http://www.kremlin.ru/events/president/news/63424
[24]  https://russiaqatar.ru/mission/
[25] https://russiaqatar.ru/head/
[26] http://tinresources.com/?page_id=294&lang=en
[27] https://russiaqatar.ru/head/
[28] https://www.tadviser.ru/index.php/%D0%9A%D0%BE%D0%BC%D0%BF%D0%B0%D0%BD%D0%B8%D1%8F:%D0%91%D0%B0%D0%BD%D0%BA_%D0%90%D0%BA%D1%80%D0%BE%D0%BF%D0%BE%D0%BB%D1%8C
[29] https://www.tadviser.ru/index.php/%D0%9A%D0%BE%D0%BC%D0%BF%D0%B0%D0%BD%D0%B8%D1%8F:%D0%91%D0%B0%D0%BD%D0%BA_%D0%90%D0%BA%D1%80%D0%BE%D0%BF%D0%BE%D0%BB%D1%8C
[31] https://russiaqatar.ru/head/
[32] https://icba.su/en/about/ibs-mission/
[33] https://icba.su/en/about/out-team/