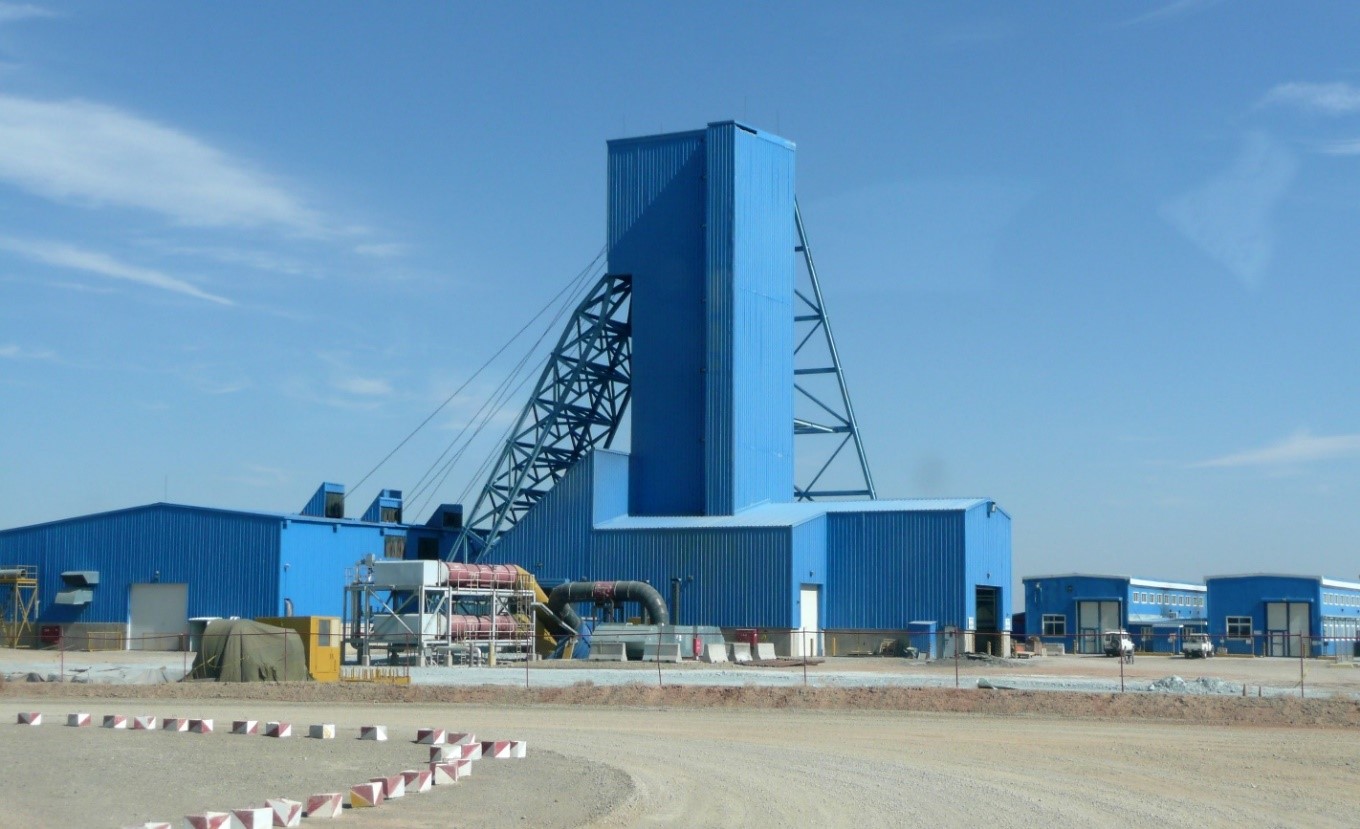 "If you want to build high, you must dig deep", a Mongolian proverb says[1]. Digging deep is how Mongolia makes a living. Copper, coal, gold, Iron and zinc are the country's leading exports[2], while deposits of molybdenum, fluorspar, uranium, and tungsten put Mongolia on the map of the third industrial revolution[3]. The biggest market for this wealth is the factory of the world, China[4]. If western corporate greed is not tamed, the country could be left to swirl between Russia's near abroad[5] and China's industrial "breathing space"[6].
That is a problem because both China[7] and Russia[8] have shown they will use access to natural resources instrumentally: and Mongolia's mineral wealth is of strategic significance for western industrial powers. The country has tripled its GDP since 1991, with an average growth rate of 6 per cent a year[9].
Building an economy on mining is not easy. Dependence on mining means public finances are exposed to price volatility. The country's most valuable export, copper, is the canary in the mine of the global economy. Look for copper prices to check the health of the global economy[10]. In 2008 copper took a dive, as it did in 2020. Preparing for this kind of volatility is easier said than done. Mining is a capital-intensive industry. To go from discovery to developing a mine you need years of work, an appetite for risk, and hundreds of millions of dollars. For developing countries borrowing comes at a steep price. So, if you are a developing nation, you either involve really big states or really big companies. Both tend to twist your arm.
The Turquoise Hill and the Wild East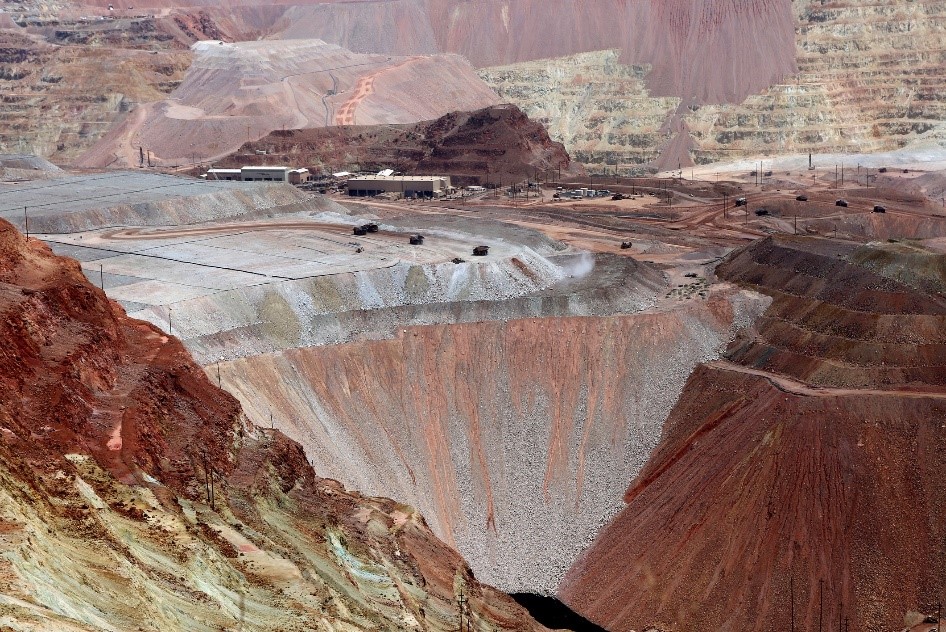 The Mongolian "Turquoise Hill" Mines[11]
Oyu Tolgoi translates in English to "Turquoise Hill". It is one of the biggest copper mines in the world. The story of the mine brings to mind frontier stories from the Wild West. The mining project is located in one of the most inhospitable environments in the world, in the South Gobi Desert, on a 1,154 meters plateau above sea level. Work here takes place in a brutally harsh environment, with temperatures ranging from -40 C to +45 C. Developing the mine required upgrading road networks, laying pipelines, building an airstrip, developing water distribution systems laying out a power network for 10,000 workers and their families[12].
Climbing up that mountain is not for the faint at heart. Those who stroke gold up there followed a 1957 Soviet "treasure map," referring to the area as Bor Ovoo (Brown Hill). In the 1990s, as Mongolia unshackled itself from the overprotective arms of the Soviet Union, the country was looking for a way out of economic stagnation[13].
In 1994 the CEO of the state-owned Erdenet Mining Corporation (EMC) Sh. Otgonbileg reached out to the US-based Magma Copper Company (MCC), extending an invitation to explore the country. Mongolia is the 20th biggest country in the world, roughly the size of Iran or double the size of Turkey. With a population of just three million people, the country has the lowest population density in the world[14]. Looking out there for riches often requires going where no one had gone before.
These particular cowboys had local guides. By 1997, more than 80% of Mongolia has been geologically mapped, exploiting Soviet geochemical sampling and airborne geophysical surveys that dated back to the 1960s. BHP Billiton acquired MCC in 1996 and began exploration at Oyu Tolgoi as part of a regional reconnaissance program of the South Gobi Desert. The exploration did not yield significant results and in 1998 the project was suspended[15].
Where one treasure hunter fails, another will give it a go. The Vancouver-based Ivanhoe Mines bought the Oyu Tolgoi Concession in May 2000. The company started drilling and had the good sense of hiring a veteran geologist that led an older Soviet mission in 1983, Dondog Garamjav. In July 2001 his team discovered on of the richest high-grade gold, copper and molybdenum surface zones in the world[16].
Enter Rio Tinto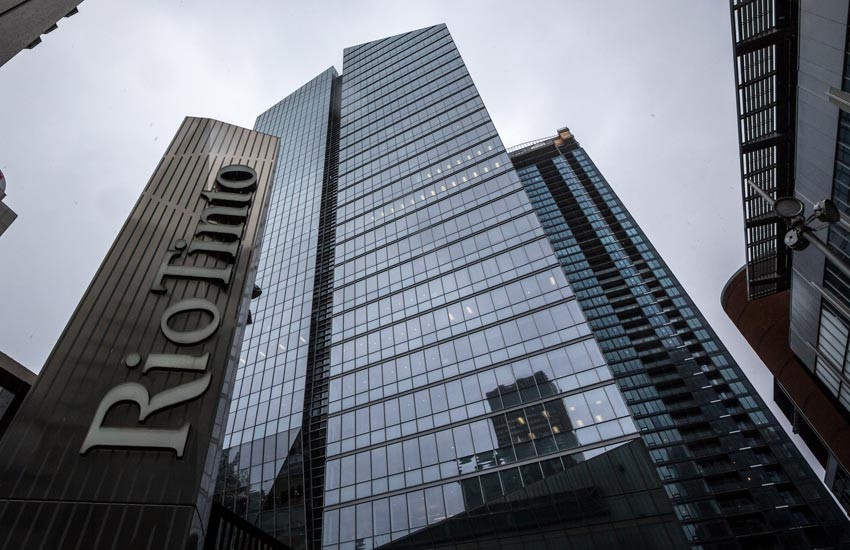 The London skyscraper, world headquarters of the Rio Tinto group[17]
To develop the mine, in 2006, the Canadians called in the big guns, offering Rio Tinto the lion's share in the Turquoise Hill venture. There was little doubt there was money to be made. By 2009 Ivanhoe's deep exploration drilling intersected another high-grade, copper-molybdenum and gold mineralization; another was made in early 2011[18].
For Rio Tinto there is no point being the second largest mining corporation in the world if you still risk your capital. While the global financial crisis was unfolding, the price of copper was in tatters, and the Government of Mongolia was knocking the door of the International Monetary Fund, Rio Tinto closed in for the kill. By March 2010, the Government of Mongolia, Rio Tinto[19], and the Canadian Ivanhoe Mines[20] formed a consortium.
The British-Australian behemoth secured a 44,6% controlling stake[21] in the venture, while the Government held onto 34% of the venture. At the time, Ivanhoe estimated the initial development cost at $4 billion. Rio Tinto went on to nearly double the cost projection[22]. This led to very serious tensions between Rio Tinto and the Government of Mongolia and resulted in an as yet unresolved dispute, which arbitration failed to settle, in a crisis that continues to call into question the future of the project.
Attracting Foreign Investors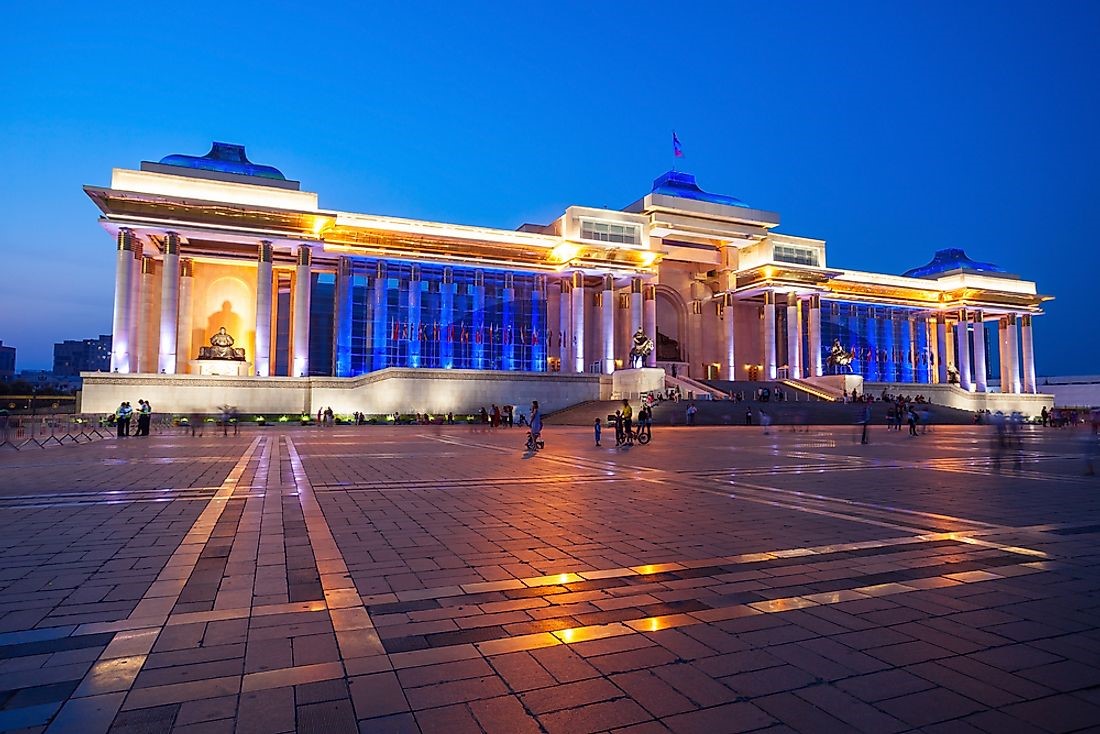 The Government Palace of Mongolia in Ulan Baatar[23]
In 1997 the Mongolian government introduced a law that opened the door to a whole range of special incentives for companies committing to exploration and development. This strategic approach yielded results. Since 2002, the Mongolian Ministry of Mining has issued just under 3,000 exploration licenses, spanning over 30% of the country's territory[24]. By 2011 Mongolia was the fastest-growing economy on the planet[25]. The Turquoise Hill development was a strategic pilot.
The state agreed to a half a century concession. In negotiating Rio Tinto's tax burden, the Anglo-Australian behemoth got the royal treatment. The framework agreement guaranteed lower rates of income and property tax, VAT and excise exemptions, and a whole range of perks designed to mitigate risk and make the investment attractive. Significantly, investment losses were tax exempt and legal disputes between shareholders can be referred to the International Court of Arbitration in London[26].
Furthermore, the company was handed real political power: the consortium controls schools, the job market, water resources, and even has a contractually guaranteed role in local government[27]. Rio Tinto appears to be using this power in bad faith, with little regard for its regard for its obligations to the Mongolian environment, culture, and environment[28].
Since 2013, Rio Tinto continuously reports costs overruns and contests ever tax bill[29]. Initially, Rio Tinto raised the development price tag from US$5.1 billion to US$7.1 billion[30]. In 2019 the Anglo-Australian behemoth said the development will be two years late, adding a whopping US$1.5 billion in redesign-redevelopment costs. In September 2020 the company added a further $140 million to cost overruns, due to Covid-19 restrictions.[31]
As a result of these losses, the company's tax bill is contested. In February 2020, Oyu Tolgoi Llc initiated an international arbitration process challenging a US$155 million tax bill for the 2013-2015 period; the company also contests a US$228 million tax bill for the 2016-2018 period[32]. Meanwhile, the company is making a hefty profit. Having agreed to finance the government's share of the investment in the mine[33], Rio Tinto gets paid 6.74% interest on $2.2 billion the government has invested, while collecting $1.3 billion in management fees since 2013. For a loss-making operation, the mine is quite profitable[34]. The majority shareholder is making money but Mongolia is not.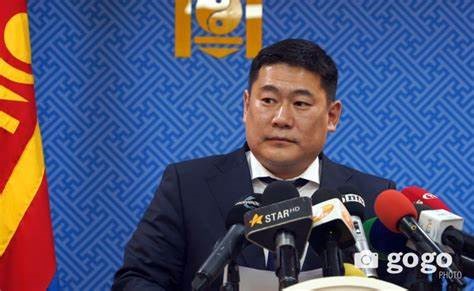 Mongolian Prime Minister Luvsannamsrain Oyun-Erdene[35]
The cumulative result is that if Rio Tinto gets its way on the Oyu Tolgoi standoff, the Mongolian government projects that by 2051 the investment will yield zero revenue and incur a debt-servicing cost of US$22 billion[36]. That does not appear an entirely fair shake for the taxpayer.
Rio Tinto is offering to reduce the debt-servicing burden in exchange for even more equity in the otherwise loss-making project[37]. In fact, Rio Tinto has been restricting investors' access to other sources of financing, triggering the wrath not only of the Mongolian Government but also the minority Canadian investors that pioneered the project[38].
Mongolia cannot afford to abandon the prospect. Current surface mining at the plant makes up 50% of total copper exports. But underground shafts hold 80% of the project's deposits[39]. The Government inevitably raised the question of liability for Rio Tinto's development and design failures. Rio Tinto deflects responsibility, referring to "unfavourable rock conditions," passing the bill to the tax payer.
The Board of Turquoise Hill Resources called for an independent commission, whose legitimacy was never questioned, to assess the question of liability.[40] This review yielded in a 157-report published in September 2021. The report vindicates the Mongolian Government[41]. Rio Tinto's management, the report concludes, failed to be upfront about underground development challenges and there were evident design failures, exposing the consortium to wasteful investment[42].
Rio Tinto continues to blame cost overruns on geotechnical challenges[43] and, more recently, human resources; Unions are asking the company to back their claims with data[44]. In sum, the developer and manager of the project is the sole stakeholder bearing no responsibility. The U.S. Securities and Exchange Commission and the British Financial Conduct Authority[45] regulators are conducting their own evaluations on whether Rio Tinto has violated rules of transparency[46]. What's clear is that the Mongolian government is fighting its corner[47].
Geopolitics matter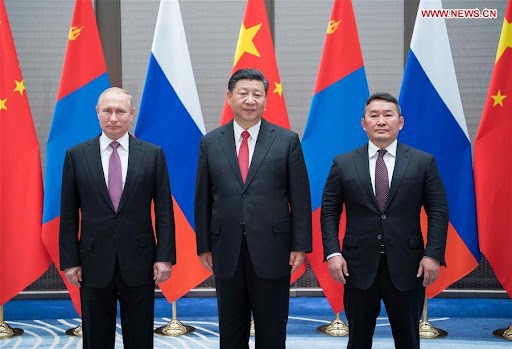 From left to right: Vladimir Putin, Xi Jinping, Mongolian President Khaltmaa Battulga at the trilateral meeting in Qingdao on June 9, 2018[48]
Mongolia is not a "sultanate" run by a single corrupt family for generations. The country has proved that it is a multiparty democracy where the incumbent can lose elections[49], rather than a captive state regime run by corrupt networks. The government is responding resolutely to a specific case of corruption involving the management of the state-owned mining holding company Erdene (ELC). According to the Independent Agency Against Corruption (IAAC), former Prime Minister Chimed Saikhanbileg was engaged in fraud and money laundering. Breaking with regional traditions, Mongolia moved swiftly to charge the network involved and placed ELC under administration for six months (03/07/2019)[50].
Following the Norwegian model, Mongolia is showing foresight and has established a Sovereign Wealth Fund (SWF)[51], in what amounts to a collective insurance policy for the future of its people that seeks to mitigate the risk of being resource-dependent. At the same time, Mongolia does care for its international reputation as a good investment destination. Avoiding a clash with the Anglo-Australian behemoth, Mongolia is asking for better financing terms[52], as the "nuclear option" of nationalisation would undermine foreign investor confidence.
But Rio Tinto's intransigence could have geopolitical implications. Mongolia is dwarfed by its neighbours in terms of both size and population. The Buddhist state seceded from China's Manchu Dynasty in 1911. With a combination of military and diplomatic means, the USSR turned the country into a satellite state in the 1920s and maintained a firm grip until the 1990[53], fighting Japanese ambitions over the region in the 1930s and 1940s.
Historically, Mongolian sovereignty is a balancing act. China is Mongolia's biggest trading partner and its primary market. China's "Go West" policy to develop its hinterland means Beijing is trying to bolster Central Asian connectivity, promote large-scale migration of companies from the prosperous east coast to Chongqing, Chengdu, Zhengzhou, Wuhan and Xi'an. Continuous investment in trans Eurasian trade is boosted. The ties between the two countries are as obvious as they are necessary, especially when one considers that China is home to six million Mongols, or twice the population of Mongolia[54].
January 23, 2018: former Rio Tinto's CEO Jean-Sébastien Jacques meets the then Prime Minister of Mongolia, Ukhnaagiin Khürelsükh[55]
Russia is Mongolia's second biggest trading partner. In 2003 Moscow wrote off the bulk of Mongolia's $11 billion Soviet debt, which financed investment in roads, railway, uranium, coal, and copper mining. Russian companies have a firm grip over existing uranium deposits (Priargunsky) and are planning the development of new prospects (Rosatom). Moscow maintains a monopoly over the country's natural gas supply, while Putin has spearheaded efforts to develop the country's coal fields for the Chinese power-thirsty market, not without Chinese competition[56]. Russian interests also eye the Oyu-Tolgoi development[57].
No country can escape location. Mongolia's foreign policy seeks to create a qualitative bridge to the rest of the world that will counterbalance its geopolitical pressure. The country's "Third Neighbour Policy"[58] seeks to harness deep industrial ties with countries and corporates that can match the geopolitical weight of Russia and China[59]. Towards this end, in 2019 Mongolia signed bilateral trade treaties with Canada and the United States[60].
If Rio Tinto forced Mongolia to seek the help of state-owned companies – that come with a package of soft loans – the West would lose anchorage in Mongolia, allowing Russia and China to create mineral monopolies that are key to leading the third industrial revolution race, while undermining Mongolia's Third Neighbour policy.
The Mongolian government does what it can to resist Rio Tinto's further demands for deferral of royalties and cost overruns[61]. After weeks of mutual accusations, Rio Tinto has tabled a new offer to the government that calls for the advance payment of royalties in exchange for the transfer of state-owned shares[62] to Oyu Tolgoi Llc. Ouy Tolgoi a Netherlands-based venture between Rio Tinto and its new Canadian industrial partner, Entrée Resources[63]. Rio Tinto proposes placing a Mongolian banker, Bold Baatar, to lead the new global copper division[64]. The ball is now in Mongolia's court.
[1] https://hiddennature.org/blog/2019/10/4/if-you-want-to-build-high-you-must-dig-deep
[2] EBRD – Mining Operations in Mongolia
[3] https://www.youtube.com/watch?v=Aq4MFbJmFCU&ab_channel=DLDconference
[4] https://www.cia.gov/the-world-factbook/countries/mongolia/#economy
[5] https://www.wilsoncenter.org/blog-post/chain-crises-russias-near-abroad-catches-moscow-surprise
[6] https://www.bbc.com/future/article/20150402-the-worst-place-on-earth ;
https://economictimes.indiatimes.com/news/politics-and-nation/cpec-an-indication-of-chinas-search-for-lebensraum-in-pakistan-and-pok/articleshow/58640293.cms
[7] https://oxfordbusinessgroup.com/analysis/plentiful-potential-country-home-major-deposits-rare-earth-minerals
[8] "Can Europe escape Gazprom's energy stranglehold?", DW, 11.07.2021, https://www.dw.com/en/can-europe-escape-gazproms-energy-stranglehold/a-58222974
[9] Mongolia Overview: Development news, research, data | World Bank
[10] https://www.macrotrends.net/1476/copper-prices-historical-chart-data
[11] https://www.fool.com/investing/2021/03/04/why-turquoise-hill-resources-stock-is-tumbling-tod/
[12] https://www.riotinto.com/operations/mongolia/oyu-tolgoi
[13] https://data.worldbank.org/indicator/NY.GDP.MKTP.KD.ZG?locations=MN
[14] https://www.worldometers.info/world-population/population-by-country/
[15] https://turquoisehill.com/oyu-tolgoi/history/
[16] Byambajan Dalaibuyan, "The story of the Discovery of Oyu Tolgoi," The University of Queensland, April 2016, (PDF) The story of the discovery of Oyu Tolgoi (researchgate.net)
[17] https://www.ledgerinsights.com/rio-tinto-baosteel-contour-trade-finance-blockchain/
[18] https://turquoisehill.com/oyu-tolgoi/history/
[19] https://web.archive.org/web/20100328135741/ ; http://www.riotinto.com/contactus.asp
[20] Ivanhoe Mines Website https://www.ivanhoemines.com/about/
[21] Euan Rocha, "UPDATE 2-Ivanhoe finalizes Oyu Tolgoi investment agreement," Reuters, March 31st, 2010, UPDATE 2-Ivanhoe finalizes Oyu Tolgoi investment agreement | Reuters
[22] Rio Tinto Mismanagement Caused Mongolia Copper Mine's Woes, Report Says, https://www.wsj.com/articles/rio-tinto-mismanagement-caused-mongolia-copper-mines-woes-report-says-11628503201
[23] https://www.worldatlas.com/articles/what-type-of-government-does-mongolia-have.html
[24] https://investingnews.com/innspired/mongolia-unique-mining-opportunities/
[25] https://www.eurasian-research.org/publication/the-wolf-economy-of-mongolia/#:~:text=In%202011%2C%20the%20Mongolian%20economy,%5BWorld%20Bank%2C%202011%5D.
[26] https://www.reuters.com/article/us-rio-tinto-mongolia-arbitration-idUSKBN20E2Y7
https://turquoisehill.com/site/assets/files/3722/oyu_tolgoi_ia_eng.pdf
[27] Chapter 6.13 to 6.19 of the Investment Agreement (Self-Discovered Water Resources) and Chapter 4 (Regional Development) https://turquoisehill.com/site/assets/files/3722/oyu_tolgoi_ia_eng.pdf
[28] https://www.somo.nl/rio-tinto-no-progress-only-hollow-talk/
[29] Michael Kohn; William Mellor (9 April 2013). "Mongolia Scolds Rio Tinto on Costs as Mine Riches Replace Yurts". Bloomberg Markets Magazine. Retrieved 5 May2013. Mongolia Scolds Rio Tinto on Costs as Mine Riches Replace Yurts – Bloomberg
[30] Stewart, Robb, "Rio Tinto to Cut 1,700 Jobs at Oyu Tolgoi Mine, Wall Street Journal, 15 August 2013., https://www.wsj.com/articles/SB10001424127887323639704579014201657311552
[31] Saheli Roy Choudhury, "Mongolia has concerns about Rio Tinto's management of a major copper mine, official says," CNBC, October 18, 2021 https://www.cnbc.com/2021/10/18/mongolia-has-concerns-about-rio-tintos-management-of-oyu-tolgoi.html
[32] https://www.riotinto.com/en/news/releases/2020/Oyu-Tolgoi-to-pursue-international-arbitration
[33] https://turquoisehill.com/site/assets/files/3724/2015-05-18_otumdafp.pdf
[34] Khaliun Bayartsogt, Mongolia to 'carefully review' financing offer by Rio Tinto, August 31, 2021, https://asia.nikkei.com/Business/Materials/Mongolia-to-carefully-review-financing-offer-from-Rio-Tinto
[35] L.Oyun-Erdene: Six month emergency regime announced for Erdenet Mining Corporation (gogo.mn)
[36] Mehanaz Yakub, Rio Tinto and Mongolian government to replace Oyu Tolgoi mine plan, https://magazine.cim.org/en/news/2021/rio-tinto-and-mongolian-government-to-replace-oyu-tolgoi-mine-plan-en/
[37] Zachary Skidmore, "Rio Tinto willing to cut rates on loans for Oyu Tolgoi expansion," Mining Technology, August 31, 2021, https://www.mining-technology.com/news/rio-tinto-willing-to-cut-rates-on-loans-for-oyu-tolgoi-expansion/
[38] "Rio Tinto faces threat of legal action from investor in Mongolian project," Reuters, December 1, 2020 https://www.reuters.com/article/us-rio-tinto-mongolia-idUSKBN28B3OI
[39] Development work at Rio Tinto's Oyu Tolgoi mine in Mongolia slows, as coronavirus impact bites, https://www.proactiveinvestors.co.uk/companies/news/914989/development-work-at-rio-tintos-oyu-tolgoi-mine-in-mongolia-slows-as-coronavirus-impact-bites-914989.html
[40] Turquoise Hill 2020 Annual Report, https://www.annualreports.com/HostedData/AnnualReports/PDF/NYSE_TRQ_2020.pdf
[41] Patience could run out': Mongolia warns Rio over copper mine, https://www.afr.com/companies/mining/patience-could-run-out-mongolia-warns-rio-tinto-over-copper-mine-20211009-p58ykj
[42] Patience could run out': Mongolia warns Rio over copper mine, https://www.afr.com/companies/mining/patience-could-run-out-mongolia-warns-rio-tinto-over-copper-mine-20211009-p58ykj
[43] Neil Hume, "Rio challenges findings of independent report into Oyu Tolgoi cost blowout," Financial Times, September 30, 2021, https://www.ft.com/content/a6ba4d4e-a872-4c38-a41e-035342bb1c86
[44] Ooluun B, "Rio Tinto caught red-handed," MontSame, October, 15, 2021, https://montsame.mn/en/read/278117
[45] Rio Tinto faces FCA probe into $6.75 billion Mongolian mine – FT
https://www.reuters.com/article/us-britain-regulator-rio-tinto-plc-mongo-idUSKBN2EX2DX
[46] Rio Tinto Mismanagement Caused Mongolia Copper Mine's Woes, Report Says, https://www.wsj.com/articles/rio-tinto-mismanagement-caused-mongolia-copper-mines-woes-report-says-11628503201
[47] Amar Adiya, "Ensuring interests and rights of Mongolia in the exploitation of the Oyu Tolgoi deposit," Mongolia Weekly, December 13, 2019, "Ensuring interests and rights of Mongolia in the exploitation of the Oyu Tolgoi deposit"
[48] http://www.xinhuanet.com/english/2018-06/10/c_137243022.htm
[49] https://freedomhouse.org/country/mongolia/freedom-world/2020
[50] L.Oyun-Erdene: Six month emergency regime announced for Erdenet Mining Corporation (gogo.mn)
[51] Mongolia to establish sovereign wealth fund – Xinhua | English.news.cn (xinhuanet.com)
[52] https://www.reuters.com/article/us-rio-tinto-oyu-tolgoi-mongolia-idUSKBN2A81JE
Mongolia seeking pact with Rio Tinto to replace copper mine expansion plan: FT
[53] https://uca.edu/politicalscience/dadm-project/asiapacific-region/chinamongolia-1911-1946/
[54] Deng, Xinmei; Ding; Cheng; Chou (2016). "Feeling Happy and Sad at the Same Time? Subcultural Differences in Experiencing Mixed Emotions between Han Chinese and Mongolian Chinese". Frontiers in Psychology. 7 (1692): 1692
[55] https://montsame.mn/en/read/133235
[56] https://nypost.com/2015/11/16/union-leader-sets-himself-on-fire-to-protest-sale-of-coal-industry/
[57] https://jamestown.org/program/russia-struggles-to-develop-new-joint-ventures-with-mongolia/
[58] https://youtu.be/FyGmFpd_JZY
[59] World Investment Report 2020 (unctad.org)
[60] Agreement Between Canada and Mongolia for the Promotion and Protection of Investments (international.gc.ca),
Investment Policy Review: Mongolia | UNCTAD
United States-Mongolia trade by authorizing duty-free treatment for certain imports from Mongolia, and for other purposes, E:\BILLS\S1188.IS (govinfo.gov)
[61] Mongolia has concerns about Rio Tinto's management of Oyu Tolgoi (cnbc.com) ; Rio challenges findings of independent report into Oyu Tolgoi cost blowout (pedfire.com) ; 'Patience could run out': Mongolia warns Rio over copper mine (afr.com)
[62] "Stausholm_s plan to bring Rio back in from cold", The Australian, October 20, 2021
[63] Entrée Resources Files Amended Technical Report for its Interest in the Entrée/Oyu Tolgoi Joint Venture Property (yahoo.com)
[64] https://www.riotinto.com/en/news/releases/2021/Bold-Baatar-appointed-Chief-Executive-Rio-Tinto-Copper