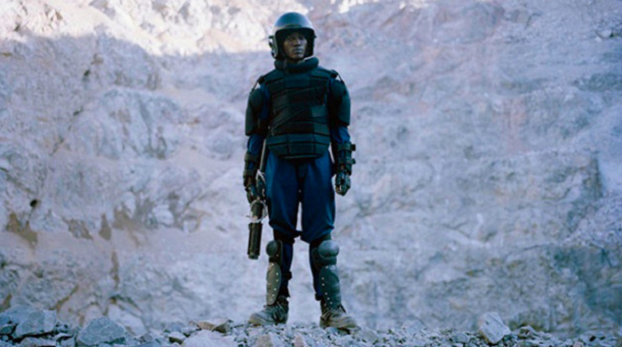 This one is a terrible picture from Africa. An image of today. A warrior from another world, half an astronaut, half a science fiction nightmare. This is a photo of one of the mercenaries paid by Acacia Mining[1] to overpower mine workers at North Mara in Tanzania at any cost. To make sure they work even when pollution, hunger, thirst, disease, violence and misery have worn them out. Anyone who does not rise from the ground lies on the ground. There is no time for pity, says Acacia Mining's Management. And for a long time, the Tanzanian government stood ready to let this happen in order to earn tax money and some small gifts for close friends.
The African continent is that, but it is also much more: an area rich in mineral resources and other treasures from the ground. Forty-four states out of 54 are rich in deposits of various kinds, most of which are inhumanly exploited and in violation of environmental, economic, health and trade union rules, thanks to the complicity of corrupt local governments and judges[2].
Why does nobody react? Those who are corrupt do not care. Those who are slaves have no way out, there is no future of emancipation possible unless they flee on foot, cross a continent and then meet in a Libyan concentration camp run by torturers and, if you survive, get up from boarding a small boat, drifting in the Mediterranean, disembarking in Sicily and being insulted by the populist parties and rulers of Europe – a misery that is ridiculed given that Africa is the land of great gold mines[3] – and a shame because Africa is finished would have sufficient resources and potential to bring wealth to all of its children.
Tanzania is by far one of the richest countries in the world underground[4]: iron, gold, nickel, copper, cobalt, silver, precious stones (diamonds, tanzanite, rubies) then coal, limestone, sodium, plutonium, gypsum and dozens of other commodities for the chemical and pharmaceutical industries. A wealth in the hands of foreign companies that does not take into account the fact that the land of the country is extremely fertile, but due to the imbalance of power between mining and agriculture, the fields are little and badly used. They are polluted, water is diverted because of mining interests[5], and even though the now depleted mines are closed, no one cares about the necessary environmental cleanup.
Over the past decade, things have worsened: Tanzania is currently the scene of an unscrupulous industrial operation of Canadian giant Barrick Gold – the world's largest multinational gold mining company[6] – and its subsidiary Acacia Mining[7]. The latter company was created to manage the three Tanzanian mines Bulyanhulu, Buzwagi and North Mara[8], where, since December 2011, 4,500 workers (who were then gradually reduced by 330 units[9]) are paid 33 cents per day [10]for the company that owns the mining permit, which will recover 251,000 ounces of gold per year and reserves estimated at up to 3.3 million ounces[11]. At the price of the last week of August 2020, that means a sum of $ 415.4 million per year and reserves for an additional $ 5.5 billion[12]. A mountain of gold paid for by the blood of the local population (more than 100 deaths recorded to date).[13]
The man of the destiny
By the time the licenses were obtained in Tanzania, Barrick Gold was already known as a problematic employer – a source of corruption for public officials in the countries in which the company operates[14] and as an employer who has not shied away from the violent crackdown on popular uprisings that followed mistreatment by their own staff[15]: Canadians were involved in many criminal cases and therefore began to bribe not only politicians and bureaucrats for business licenses and treatment special tax, but also the judges who had to judge them in the trials.[16]
As the new project begins, in 2011, Barrick Gold will hire a new director as Chairman: Kelvin Dushnisky[17], who comes from a competitor, Equinox Minerals[18]. Dushnisky is called upon to lead the company which was founded specifically for the three Tanzanian mines, called Africa Barrick Gold (ABG), with enormous freedom of action[19]. Barrick also allows him to buy shares of ABG through a mutual fund intermediary[20], while Barrick Gold continues to own 63.9% of the company[21]. Dushnisky gained real independence from the parent company in 2014 as ABG changed its name to Acacia Mining[22]. Therefore, Dushnisky can independently take decisions that not only affect business in Tanzania, but also allow the company to include new foreign investment – for example a joint venture with Australian mining industry Sarama Resources[23] (70% Acacia, 30% Sarama) to open new mines in Burkina Faso[24] – a project which is now wholly owned by Sarama Resources[25].
With his story, Kelvin Dushnisky certainly represents a "new" man[26] with undisputed experience in the industry. He was selected for this: a capable manager who previously worked as CEO at five other companies[27], such as International Vestor Resources[28] (a Canadian mining company). He then became a member of the boards of directors of Barrick Gold Corporation[29], Barrick TZ and Sutton Resources (the latter two are controlled by Barrick Gold Corporation), director and vice-chairman of Redcorp Ventures[30] (a Canadian mining company), director of Altara Securities[31] (financial services), Advisor to the World Gold Council, Vice-president of Rescan Consultants and EuroZinc Mining Corporation.[32]
Dushnisky was also a high-ranking manager of the Sodisco-Howden Group[33], a multinational company acquired[34] by Canwel Building Materials Group[35] in 2005. That is why Kelvin Dushnisky was also the director and member of the board of directors of buyers of Sodisco[36], which, with the merger of the two groups, has become one of the largest construction and hardware poles in the country[37]. Dushnisky didn't go from Sodisco to Canwell alone: ​​with him came former Sodisco CEO Amar S. Doman[38], a longtime friend of Dushinsky's, who stayed in Canwell as Dushnisky went to Barrick Gold[39].
Doman is a member of British Columbia's economic and political elite. When this Canadian state held a referendum in 2018 to switch from a majority system to a proportional electoral system, Doman was among those who funded the campaign to prevent the referendum from being passed[40]. His father, Harbanse Singh Doman, born in India, was embroiled in a campaign finance scandal for Bill Bennett, who was premier of British Columbia from December 1975 to August 1986[41]. After years of litigation, Doman and Bennett were convicted of insider trading in 1996.[42]
As chairman, Kelvin Dushnisky was involved in a mining scandal for Redcorp Ventures: the company heavily polluted the Taku River (one of the largest salmon reserves on the northern border between British Columbia and Alaska[43]) with acidic drainage from its mines. The mine began operating in the 1950s, but was closed as early as 1957[44] due to pollution issues, then taken over by Recdorp, which bought the mines in 1998[45], until Alaska Governor Sarah Palin, ordered the end of Redcorp's operations[46] and demanded (rightly so) that the bankrupt company will be forced to clean up the polluted section of the river and its shoreline[47]. When the mine reopened in March 1998, Dushnisky personally announced that the staff he was managing could have bet that there would never be another acid problem in the river.[48] He lied.
The Canadian mining clique
The most disturbing part of the story begins with another company in British Columbia, Equinox Minerals[49], which rose to prominence (in 2009, shortly after its founding) with the purchase of Lumwane in Zambia[50], at that time the largest copper mine in the world. Craig Williams, CEO of Equinox, and Dushnisky, Director of its Africa Operations, founded MCM Mopani Copper Mines Ltd. Lusaka and have signed the copper marketing contracts with Glencore, one of the world's leading trading companies[51].
Things immediately took a turn for the worse: a year later, Equinox was producing $ 400 million in debt owed to MCM alone. As the copper had not yet been mined, Glencore canceled the contract[52]. So far, things have not improved: a few days ago, it was announced that Barrick Gold security forces were suspected of being involved in ritual killings and the use of chemicals to destroy houses and a police station near Lumwane[53].
Dushnisky finds a buyer who will pay off the debt: Less than a year later, in January 2010, Barrick Gold bought both Equinox Minerals and MCM[54]. The NGO MiningWatch protests in Canada. For ten years, it has been trying to prevent Barrick Gold from taking control of new mines in Africa after the so-called "Bulyanhulu massacre": this Tanzanian mine has been opened since 1996 by residents of the region (called the Small Scale Miners Committee of Kakola[55]), which had come together in association for the exploited at the artisanal level. Essentially, the mine remained inactive until 2009, when it was acquired by another Canadian company, Sutton Resources Inc. Vancouver[56], whose manager was Kelvin Dushnisky[57].
In order to transform the mine into an industrial zone, Sutton forced the deportation of a few thousand inhabitants of the area, and the result of this action was that many people died in haste (the exact number will never be known, but we are talking about at least 2,000 dead[58]) and that Sutton collected and buried the bodies under the mine floor[59]. When the Ombudsman's office of compliance advisers persuades the Tanzanian government to search massacre sites, the unrecognizable bodies of 52 people are found.[60]
The only effect of this crime is that Sutton Resources goes bankrupt and is taken over by Barrick Gold in April 2011[61]. Since then, until July 2014[62] (when ownership of the mine is transferred to Acacia Mining, also with a sale deemed to be fictitious by NGOs operating in Tanzania[63]), the Bulyanhulu mine continued to be embroiled in several unpleasant problems: in 2004, miners carried out an armed robbery to take wages, and the result was the death of several between them – which called Barrick Gold's security[64] systems into question. The result is that in 2006, the company's accountants cheated on paychecks, protected by teams of bodyguards hired two years earlier after the theft[65]. A year later, the workers went on strike and protested against the lack of security during searches, the low wages and the constant harassment to which they were subjected. The result was: several demonstrations violently suppressed by the guards of Barrick Gold, more than a thousand dismissals, the expulsion of the union from the Bulyanhulu region.[66]
Cyanide rivers on glaciers and tropical forests
The last decade of Barrick Gold and Acacia Mining's business reads like a horror novel. The corruption cases uncovered in Kenya seem to be the most negligible thing[67]. In September 2016, a cyanide pipeline collapsed due to lack of maintenance[68]. This was used to refine gold in the Veladero mine[69] in the province of San Juan (Argentina); the government has stopped work on the mine. One million liters of cyanide continued to end up in the four streams surrounding the mines until an engineer, Raman Autar, documented how cyanide was already dumped into the rivers[70] for some time before. After years of fighting the miners' union[71], Barrick Gold is now fined several million dollars, whose result is the sale of 50% of the Veladero mine to a Chinese multinational, the Shandong Mining Company, because Barrick did not have the money to pay the fine and fix the rotten infrastructures[72].
In 1999, Rio Tinto received a controversial concession to Lake Cowal in New South Wales (Australia), but after prospecting, the company decided to abandon the excavations: the entire lake area, a paradise of flora and wildlife, is threatened by environmental disasters[73] – and the lake is located in the center of the Holy Land of Wiradjuri: to open a mine would be a sacrilege[74]. Kelvin Dushinsky persuades Barrick Gold to purchase the user license. Beginning in 2006, the lake was sprayed with cyanide[75] and the area was systematically cleared[76] – until Barrick Gold was forced to sell the permit in 2015 after years of litigation.[77]
The Dominican Republic takes the usual scenario, which was presented at Barrick Gold's[78] annual general meeting in April 2014[79]. The company owns a silver mine in the Pueblo Viejo area, and international NGOs report destroyed villages by cyanide, hunger, thirst, misery, disease and fear of reprisals from the private guards of the multinational company[80]. With the local government indifferent to the issue, NGOs are calling on the United Nations to create a Loma Miranda Natural Park that encompasses not only Pueblo Viejo, but several square kilometers around the mine site[81]. Finally, the Dominican justice responded, and in April 2015, the management of Barrick Gold went to court[82]. If the court agrees with the victims, Barrick Gold will have to pay hundreds of millions of dollars in fines and taxes – and sell 40% to a competitor for lack of money.[83]
The same goes for Chile: after Barrick Gold bought the permit in 1994, in 2009 it opened the Pascua Lama mine on the edge of an Andean glacier on the border with Argentina[84]. Excavations cause the usual problems, citizens filing class actions against the company and years of litigation. In April 2015, Barrick Gold pledged to pay $ 140 million, one-fifth of what the plaintiffs demanded[85]. In the meantime, Barrick Gold is closing the mine due to excessive costs and awaiting the end of the dispute in order to negotiate the reopening of the facilities with a new industrial partner[86]. In 2019, courts in the United States and Canada overturn the compromise reached in 2015 and reopen the hearings. This time around, the risk is that Barrick Gold will have to shell out over $ 3 billion[87].
In Pakistan, Barrick Gold challenges the guerrillas who are fighting for the independence of the province of Balochistan[88]. Barrick Gold owns a company there, the TCC Tethyan Copper Company, which has been operating the Reko Diq mine for about ten years without a license and with the usual faults[89]. This is possible because the Baloch Liberation Army does not recognize Pakistani authority over the region and Barrick Gold has resorted to international arbitration to obtain permission to operate the mine, an arbitration which is made difficult by the fact that the Balochistani separatists are not legally represented in court[90]. Finally, in 2019, Barrick Gold pledges to pay $ 5.83 billion – an amount that has yet to be paid because the Baloch Liberation[91] Front has no offices or bank accounts.[92]
The situation in Papua New Guinea is even worse. The Porgera Gold Mine is located in the middle of a unique tropical forest, as it is located on a plateau over 2000 meters above sea level in an area with heavy rains and frequent earthquakes[93]. Barrick bought the usage rights in 2006 and the problems began immediately. The first visible effect of the presence of the mine is the pollution of aquifers by cyanide and plutonium[94]. In addition, the original mine was to be expanded and Barrick's security forces began the first evictions, which in spring 2007 led to protest marches and the temporary closure of works.[95]
After this experience, Barrick decides to go the hard way and his squads burn over 200 homes[96], continue to systematically rape the village women, and speak of massacres that have never been proven[97]. Only in two cases, in 2006 and 2012, the police were able to prove that the guards of Barrick Gold had respectively killed 14 people (2006) and 5 people (2012)[98]. According to the company, these people had crossed the mine fence illegally – a fact sufficiently appreciated that there were no consequences for the killings. The dispute between Barrick Gold[99], the state of Papua New Guinea and international NGOs continues to this day.[100]
Acacia Mining and Tanzania
Following the transfer of mining rights from Barrick Gold to Acacia Mining and the relocation of Kelvin Dushnisky from Barrick Gold's board of directors to the chairmanship of the new Tanzanian company, rumors of abuse and rape, murder and fraud of workers[101], in particular in the three mines of Bulyanhulu[102], Buzwagi[103] and North Mara[104], began to spread. Even before Dushnisky took office, his predecessor Brad Gordon[105] did everything to ruin the company's reputation: he built a veritable network of violence, bribery, fraud and corruption – so many activities by which he left sales.[106]
It gets worse with the arrival of Dushnisky. Due to the lack of maintenance of the facilities, the pollution of the entire ecosystem, miles around the mines, starts with cyanide and plutonium or other heavy metals[107]. After an accident at the factories in June 2009, 203 people were hospitalized with serious respiratory or skin problems within hours, 43 people died and 1,358 cattle died – a massacre[108]. Since then, Acacia's mining squads have been shooting those who rebel or those who jump over fences overnight to catch a few gold crumbs overnight – the company admits this happens on a regular basis but doesn't does not keep statistics on this. Murders for which Acacia is not responsible because it only defends the safety of its workers and the operation of the mine – explains Dushnisky in some press releases[109].
As international pressure increases, the Tanzanian government, which has remained silent for years despite the events at the three Acacia Mining mines, is forced to react and threaten retaliatory measures if the violence, the systematic process of pollution of air, water and earth do not stop, and so Acacia does not refrain from avoiding taxes[110]. After years of negotiations, a compromise was signed (in 2019) thanks to the mediation of the consulting firm DaMina Advisors[111]. This has gone unheeded (until now) – Acacia Mining is still not paying[112]. To solve the problem, former attorney general Adelardus Kilangi is preparing a law reform that will redefine the relationship between African states and multinational corporations that have mineral rights[113].
The agreement between Tanzania and Barrick Gold includes the lifting of the export ban on gold and copper concentrates imposed on the group in 2017, as well as the lifting of Barrick's obligation to build refineries in Tanzania[114]. It is stated that the Tanzanian government receives 16% of user rights free of charge in each of Barrick's three gold mines and that any economic benefits generated by the mines have been precisely shared between the Canadian company and the government[115]. Barrick agrees to repay the $ 300 million in unpaid taxes since the mines opened, broken down as follows: a down payment of $ 100 million, the remainder spread over seven years – and until Barrick can continue, they lay off workers to reduce costs.[116]
A fundamental agreement that does not provide for sanctions for non-compliance, and that is why Professor Kilangi is considering reform of Tanzanian laws, which should be extended to other African countries[117]. Barrick recently paid the first installment of $ 100 million[118]. In the meantime, Dushnisky left and his successor, Mark Bristow, who wound up Acacia Mining, founded a new subsidiary of the Barrick group called Twiga Minerals Corporation, which took over the rights to the three Tanzanian mines and resumed mining work; he also pledged that Twiga would pay $ 40 million a year, plus taxes owed for years to come, and that violence will be a bad memory of the past[119]. A past for which Barrick Gold finally accepts to be guilty.[120]
At this point, Kelvin Dushinsky's position is no longer sustainable: under pressure from Barrick Gold shareholders, UN inspectors, international NGO activists and ultimately contested in the Tanzanian political world and, even in his own company[121], Vancouver director Acacia Mining leaves October 2017 (as of August 2018[122]) – but is still rebounding and is immediately hired as CEO by another multinational mining company, the AngloAshanti Group[123]. A post he can only occupy for a few months because the outrage of politicians, environmentalists, human rights defenders, UN officials and mining experts is so great[124] that Dushnisky will eventually be forced to retire early July 2020[125] and return to Vancouver to enjoy the money he has earned with blood on his hands as a manager over the years[126].
Who protected Kelvin Dushnisky?
The logical question that arises is: how did it all happen? How could all this be possible? The answer will likely lie in the respected and aristocratic milieu of Vancouver's billionaire clubs, especially in the surprise resignation of one of Canada's most powerful contemporary politicians, former Energy Secretary and former Transportation Secretary John Baird. In March 2015, he left government to join the Barrick Gold[127] board of directors. As early as July of the same year, rumors were circulating about possible relations between Baird and Dushnisky, in particular because of possible conflicts of interest.[128]
First, analysts drew attention to Baird's work as head of CIDA (Canadian International Development Agency[129]) and to the fact that in the three years before CIDA closed its doors for a merger with The State Department[130], Baird had grants in the amount of more than $ 17 million to cover the global Barrick Gold problems[131]. Analysts said Baird was given the seemingly overpaid board seat as a thank you for the service he had rendered during his years as head of ministries[132]. The book, which the Canadian press said documented the bribes Barrick paid Baird, was blocked by a series of preventative proceedings and the authors ultimately abandoned publication.[133]
But even in Tanzania someone most likely has some personal responsibility for which they should at least be asked for an explanation. Public opinion has long pointed the finger at Judge Lameck Mlacha[134], who for years was protected by politicians and promoted to president of the Supreme Court of Tanzania[135], although President Magufuli himself delivered a violent speech against the judicial system[136]. Mlacha is currently under criminal investigation for alleged corruption. It will be debited with payments of 35,000 euros transferred to the accounts of the HMF Acacia Maendeleo Fund (fund held by Acacia Mining), the Bank of Tanzania[137] and the National Bank of Canada[138]. Acacia Mining has apparently paid around 300 million shillings (about $ 120,000) to Tanzanian judges, politicians and institutional officials over the past decade, to which must be added favors and various types of perks[139] – all with the approval of a few government officials … things that are far from secret, even to President Magufuli.[140]
The bottom line is that with the establishment of the Kimberley Process (KP), which was set up in 2000 (an independent agency, free from single national governments, which is there to control and stop the development of the market for gems and metals like negotiating basis for arms and ammunitions)[141] was a huge step forward, but not enough to prevent nightmares like those of Barrick Gold and Acacia Mining from occurring.
KP is now an agency operating under a United Nations[142] mandate based on a treaty to which 82 countries adhere (including Tanzania and Australia but not Papua New Guinea, the Dominican Republic, Kenya, Argentina and Chile[143]). But KP does not deal with the mines. These are considered to be outside contraband and therefore human rights violations are largely monitored only by NGOs. A situation that needs to change, also because it's hard to accept that people like Kelvin Dushnisky will never respond for their responsibilities – not even from The Hague Court of Human Rights, which has not of jurisdiction over these matters.
[1] https://www.barrick.com/AcaciaMining/
[2] https://ilquotidianoinclasse.ilsole24ore.com/inchiesta-531/una-grande-e-ricca-miniera/
[3] https://lospiegone.com/2017/01/04/le-risorse-africana-il-dramma-delle-miniere-doro/
[4] https://ke.tzembassy.go.tz/tanzania/natural-resources-and-mining-in-tanzania
[5] Kjell Arne Brekke, Vegard Iversen, Jens Aune, "Soil wealth in Tanzania", Discussion Paper 164 of the Statistics Norway Research Department, Oslo 1996 – see https://www.ssb.no/a/publikasjoner/pdf/DP/dp_164.pdf
[6] https://it.investing.com/equities/barrick-gold-corp.
[7] https://www.barrick.com/AcaciaMining/
[8] https://www.mining-technology.com/projects/bulyanhulu-gold-mine-shinyanga/
[9] https://allafrica.com/stories/202001170537.html
[10] https://magazine.cim.org/en/news/2016/tanzanian-inquiry-probes-deaths-injuries/
[11] https://www.barrick.com/English/operations/north-mara/default.aspx ; https://www.crown.co.za/latest-news/modern-mining-latest-news/10206-north-mara-gold-mine-achieves-record-monthly-production ; https://www.ide.go.jp/English/Data/Africa_file/Company/tanzania03.html
[12] https://www.bullionbypost.eu/gold-price/?gclid=CjwKCAjwnK36BRBVEiwAsMT8WNTk5iheF-W8zv7lUnWyg5wRxrT0cwffLsMNh9uK9GYyRsumrugF9xoCuQgQAvD_BwE
[13] https://www.theglobeandmail.com/report-on-business/international-business/african-and-mideast-business/police-killed-65-injured-270-at-tanzanian-mine-inquiry-hears/article32013998/ ; https://www.facing-finance.org/en/database/cases/violence-at-north-mara-goldminegewalt-und-vertreibung-bei-der-goldmine-in-north-mara/ ; https://www.bloomberg.com/news/articles/2010-12-23/shooting-gold-diggers-at-african-mine-seen-amid-record-prices ; https://www.business-humanrights.org/en/latest-news/tanzania-deaths-injuries-at-barrick-mine-linked-to-displacement-loss-of-livelihoods/ ; https://magazine.cim.org/en/news/2016/tanzanian-inquiry-probes-deaths-injuries/
[14] https://www.business-humanrights.org/en/latest-news/tanzania-acacia-mining-denies-it-is-under-investigation-by-uks-serious-fraud-office-for-corruption/
[15] https://www.raid-uk.org/blog/acacia-mining-faces-new-human-rights-problems-tanzania
[16] https://www.bbc.com/news/world-africa-52983563
[17] https://www.mining.com/barricks-dushnisky-quits-becomes-anglogold-new-ceo/
[18] https://www.bloomberg.com/profile/person/2426925
[19] https://www.miningafrica.net/companies/acacia-mining/
[20] https://simplywall.st/news/who-are-the-major-shareholders-of-acacia-mining-plc-lseaca/
[21] https://www.miningweekly.com/article/african-barrick-gold-raises-581m-in-london-ipo-2010-03-19 ; https://www.reuters.com/article/us-abg-ipo/african-barrick-gold-in-1-billion-london-ipo-sources-idUSTRE61M2W020100223
[22] https://it.qwe.wiki/wiki/Acacia_Mining
[23] https://saramaresources.ca/company/about-us/
[24] https://www.mining.com/african-barrick-is-history-changes-name-to-acacia-mining-31334/
[25] https://saramaresources.ca/portfolio-posts/south-hounde-project/
[26] https://wallmine.com/tsx/cwx/officer/1693543/kelvin-dushnisky
[27] https://www.marketscreener.com/business-leaders/Kelvin-P-M-Dushnisky-2631/biography/
[28] https://www.sedar.com/DisplayProfile.do?lang=EN&issuerType=03&issuerNo=00003696
[29] https://www.bloomberg.com/profile/company/1552Q:CN
[30] https://www.bloomberg.com/profile/company/RDV:CN
[31] http://www.privatebanking.com/directory/north-america-canada-british-columbia-langley/advisors-consultants/altara-securities-inc
[32] http://www.privatebanking.com/directory/north-america-canada-british-columbia-langley/advisors-consultants/altara-securities-inc
[33] https://www.bloomberg.com/profile/company/0881500D:CN
[34] https://canada.constructconnect.com/dcn/news/Projects/2005/1/CanWel-buys-Sodisco-Howden-Group-DCN023208W
[36] https://www.marketscreener.com/business-leaders/Kelvin-Dushnisky-2631/biography/
[38] https://hardlines.ca/gp_newsletter/feb21_05/
[39] https://www.sec.gov/Archives/edgar/data/930007/000110465918053437/a18-15410_5npx.htm
[40] https://pressprogress.ca/wealthy-urban-elites-are-bankrolling-the-opposition-to-electoral-reform-in-bc-newest-filings-show/
[41] https://www.thecanadianencyclopedia.ca/en/article/william-richards-bennett
[42] https://www.bcsc.bc.ca/about/media-room/news-releases/1999/commission-panel-issue-consent-orders-in-bennettdoman-insider-trading-case ; https://web.archive.org/web/20110228195843/ ; http://archives.cbc.ca/programs/689-11306/page/3/
[43] http://www.digitaljournal.com/article/290421
[44] https://www.yukon-news.com/news/redcorps-bankruptcy-threatens-salmon-rich-taku/
[45] https://www.yukon-news.com/news/environmentalist-asks-tough-questions-about-redcorp/ ; https://casebrief.fandom.com/wiki/Taku_River_Tlingit_First_Nation_v_British_Columbia_(Project_Assessment_Director)
[46] https://bc.ctvnews.ca/palin-wades-into-controversy-over-b-c-mine-1.419244
[47] https://www.yukon-news.com/news/redcorps-bankruptcy-threatens-salmon-rich-taku/
[48] https://core.ac.uk/download/pdf/141716626.pdf, page 13
[49] https://www.equinoxgold.com
[50] https://nationalpost.com/news/equinox-overcomes-setbacks
[51] https://nationalpost.com/news/equinox-overcomes-setbacks
[52] https://thewest.com.au/business/finance/equinox-to-roll-over-us400m-in-debt-ng-ya-223041
[53] https://www.zambiawatchdog.com/police-station-burnt-down-in-lumwana-over-ritual-killings/
[54] https://www.corp-research.org/barrick-gold
[55] http://www.cao-ombudsman.org/cases/document-links/documents/bulyfinal.Englishpdf.pdf ; https://cirdi.ca/wp-content/uploads/2017/06/Case-Study-2-Bulyanhulu-Tanzania-060517.pdf, pages 5-6
[56] https://www.lusakatimes.com/2019/10/15/barricks-1bn-lumwana-mine-in-zambia-attracts-chinese-interest/
[57] https://www.bloomberg.com/profile/company/1552Q:CN
[58] https://cirdi.ca/wp-content/uploads/2017/06/Case-Study-2-Bulyanhulu-Tanzania-060517.pdf, page 6
[59] https://miningwatch.ca/blog/2001/11/23/sutton-resources-barrick-gold-and-bulyanhulu-statement-miningwatch-canada?__cf_chl_jschl_tk__=88295c35d93ff33816884971e2bdd624efb63e2e-1599190072-0-Af7OxmVZdZFBm5U8SRYBFM61oHNcEW_KjpDXpVXRO-NHKFzPKRItXIcgyuGQRk3FErRaK-ubB-uKuVZuSlbIG6ND5E8S6BS2xXKoqxkH5Ju25HE5nsKY5FtcuWxcg0GxFfC86WMGcNa8fB9KiUJ8HXq-qkmNTgFWDzSq84RBuHqT3ZpmCXYB0qitev6iltdlMMhZVGghSgyPICCxMvV3DcOsJ6PSmewzxA4WaB0IMUEm9ug5doxxYpdl31OGt5QXdAva04CGUNYf5HcQpcPcrIVEv1pZepAqisZoIs6CE5_Q6Jt5NX_MUql0cBl0-UrEbCOBMy8cbElNjRSPmA6rHVCqRsaesoOP2cgZO1wTJAIsyrazIXIZyacQX0ilZhXRNJ8wocRduDPO87cohvhy6QE
[60] http://www.cao-ombudsman.org/cases/document-links/documents/bulyfinal.Englishpdf.pdf
[61] https://www.lusakatimes.com/2019/10/15/barricks-1bn-lumwana-mine-in-zambia-attracts-chinese-interest/ ; https://cirdi.ca/wp-content/uploads/2017/06/Case-Study-2-Bulyanhulu-Tanzania-060517.pdf, pages 2-3
[62] https://www.lusakatimes.com/2019/10/15/barricks-1bn-lumwana-mine-in-zambia-attracts-chinese-interest/
[63] https://cirdi.ca/wp-content/uploads/2017/06/Case-Study-2-Bulyanhulu-Tanzania-060517.pdf, page 7
[64] http://www.cao-ombudsman.org/cases/document-links/documents/bulyfinal.Englishpdf.pdf
[65] https://cirdi.ca/wp-content/uploads/2017/06/Case-Study-2-Bulyanhulu-Tanzania-060517.pdf, page 7
[66] https://munkoutofuoft.wordpress.com/2011/01/24/fallacies-of-capitalism-peter-munk-in-his-own-words-a-speech-at-the-barrick-gold-agm-2010/ ; https://cirdi.ca/wp-content/uploads/2017/06/Case-Study-2-Bulyanhulu-Tanzania-060517.pdf, page 7
[67] https://nation.africa/kenya/news/western-leaders-question-mining-deal-with-acacia-1910356
[68] http://www.corpwatch.org/sites/default/files/Barrick%27s%20Dirty%20Secrets.pdf, page 5
[69] https://www.marketscreener.com/quote/stock/BARRICK-GOLD-CORPORATION-1408870/news/Barrick-Gold-Corporation-Temporary-Suspension-of-Operations-at-Veladero-Mine-23059074/
[70] https://www.nationalobserver.com/2016/06/24/news/canadian-mining-giant-barrick-gold-fired-whistleblower-then-they-spilled-cyanide
[71] http://protestbarrick.net/article.php@id=553.html ; http://www.protestbarrick.net/downloads/DebunkBarrick-Report_fnl_web_s.pdf, page 6
[72] https://www.reuters.com/article/us-barrick-gold-mine-argentina-exclusive/exclusive-barrick-faces-sanctions-for-argentina-cyanide-spills-judge-says-idUSKBN1841BK ; https://www.infobae.com/economia/finanzas-y-negocios/2017/04/07/barrick-gold-vendio-50-de-la-mina-veladero-a-una-firma-china/
[73] http://www.protestbarrick.net/downloads/DebunkBarrick-Report_fnl_web_s.pdf, pages 7-8
[74] http://www.corpwatch.org/sites/default/files/Barrick%27s%20Dirty%20Secrets.pdf, pages 8-9
[75] http://www.corpwatch.org/sites/default/files/Barrick%27s%20Dirty%20Secrets.pdf, pages 8-9
[76] https://www.rainforestinfo.org.au/gold/lakep.html
[77] https://www.australianmining.com.au/news/barrick-gold-sells-cowal-gold-mine/
[78] http://protestbarrick.net/article.php@id=961.html
[79] http://www.protestbarrick.net/downloads/DebunkBarrick-Report_fnl_web_s.pdf, pages 16-17
[80] http://protestbarrick.net/article.php@id=976.html
[81] http://protestbarrick.net/article.php@id=989.html
[82] http://protestbarrick.net/article.php@id=1016.html ; http://protestbarrick.net/article.php@id=1033.html
[83] https://www.globenewswire.com/news-release/2020/04/24/2021914/0/en/Pueblo-Viejo-Pays-Another-185-Million-in-Taxes-Bringing-Its-Total-Cash-Distribution-to-the-Dominican-Government-to-2-Billion.html
[84] https://www.motleyrice.com/securities-class-actions/barrick-gold-litigation
[85] https://www.motleyrice.com/securities-class-actions/barrick-gold-litigation ; https://www.mining.com/canadian-court-oks-3bn-securities-class-action-against-barrick-gold/ ;
[86] https://www.mining.com/us-judge-rules-barrick-gold-must-face-group-lawsuit-over-pascua-lama-mine/
[87] https://www.barrick.com/English/news/news-details/2019/Chilean-Supreme-Court-Overturns-Environmental-Court-Ruling-in-Pascua-Lama-Closure-Review-Process/default.aspx ; https://www.mining.com/us-judge-rules-barrick-gold-must-face-group-lawsuit-over-pascua-lama-mine/ ; https://www.mining.com/canadian-court-oks-3bn-securities-class-action-against-barrick-gold/
[88] https://www.dawn.com/news/794058/the-battle-for-balochistan ; https://indianexpress.com/article/pakistan/us-declares-pakistans-separatist-baluchistan-liberation-army-as-terrorist-group-5812092/
[89] http://protestbarrick.net/article.php@id=776.html
[90] http://protestbarrick.net/article.php@id=973.html
[91] https://financialpost.com/commodities/mining/i-dont-expect-barrick-to-get-paid-5-83-billion-arbitration-win-in-pakistan-leaves-unanswered-questions
[92] https://financialpost.com/commodities/mining/i-dont-expect-barrick-to-get-paid-5-83-billion-arbitration-win-in-pakistan-leaves-unanswered-questions
[93] https://www.mining-technology.com/projects/porgera/ ; http://www.porgerajv.com/Community-Environment/Community-Relations ; https://intercontinentalcry.org/life-in-porgera-valley-papua-new-guinea/ ; https://web.archive.org/web/20111001212935/ ; http://www.mining.ubc.ca/mlc/presentations_pub/Pub_LVW/68b_mftf-i.pdf
[94] https://archive.is/20120721202637/http://www.canadianminingjournal.com/issues/story.aspx?aid=1000347633
[95] https://en.wikipedia.org/wiki/Porgera_Gold_Mine
[96] https://www.amnesty.org/en/press-releases/2014/06/papua-new-guinea-police-set-hundreds-homes-ablaze-near-porgera-gold-mine/
[97] https://www.hrw.org/report/2011/02/01/golds-costly-dividend/human-rights-impacts-papua-new-guineas-porgera-gold-mine ; https://munkoutofuoft.wordpress.com/2011/01/24/fallacies-of-capitalism-peter-munk-in-his-own-words-a-speech-at-the-barrick-gold-agm-2010/ ; https://ejatlas.org/conflict/porgera-joint-venture-pjv-gold-mine-in-papua-new-guinea
[98] https://web.archive.org/web/20090530153818/ ; http://www.canada.com/saskatoonstarphoenix/story.html?id=745cc4dc-a5b8-4501-8333-a16e5d221eeb&k=79222
[99] https://archive.is/20120715142555/http://newstro.com/article/blast-kills-five-trespassers-at-png-gold-mine.html
[100] https://www.barrick.com/news/news-details/2020/barrick-serves-notice-of-dispute-over-porgera/default.aspx
[101] https://www.miningreview.com/news/acacia-responds-charges/
[102] https://tanzaniabusinessethics.wordpress.com/b-acacia-mining-2/
[103] https://miningwatch.ca/sites/default/files/2017_field_report_final_-_anger_boils_over_at_north_mara_mine.pdf
[104] https://www.business-humanrights.org/en/latest-news/tanzania-miningwatchs-video-claims-acacia-mining-failed-to-provide-redress-for-women-sexually-abused-at-mine/
[105] https://www.bloomberg.com/profile/person/6999704
[106] https://www.reuters.com/article/acacia-mining-tanzania-corruption/update-1-tanzania-charges-acacia-subsidiaries-with-tax-evasion-corruption-idUSL8N1WX61U
[107] Manfred F. Bitala, Charles Kweyunga, Mkabwa L.K. Manoko, "Level of heavy metals and Cyanide in soil, sediment and water from the vicinity of North-Mara Gold Mine in Tarime District, Tanzania", CCT, Dar-es-Salaam 2009 – see https://it.scribd.com/document/397215429/north-mara-pollution-report-pdf, as well as in the 2002 Report of CAO http://www.protestbarrick.net/downloads/leat.response.to.cao.pdf
[108] Sakura Saunders, "Debunking Barrick", Protestbarrick.net, Dar-es-Salaam 2013, page 3 – see http://www.protestbarrick.net/downloads/DebunkBarrick-Report_fnl_web_s.pdf
[109] Sakura Saunders, "Debunking Barrick", Protestbarrick.net, Dar-es-Salaam 2013, pages 4-5 – see http://www.protestbarrick.net/downloads/DebunkBarrick-Report_fnl_web_s.pdf
[110] http://protestbarrick.net/article.php@id=503.html
[111] https://www.theeastafrican.co.ke/tea/business/doubts-raised-over-tanzania-barrick-agreement-1435174
[112] https://www.theeastafrican.co.ke/tea/business/doubts-raised-over-tanzania-barrick-agreement-1435174
[113] https://legal.un.org/avl/ls/Kilangi_S_video_1.html
[114] https://www.barrick.com/English/news/news-details/2020/Barrick-Back-in-Business-in-Tanzania/default.aspx
[115] https://www.barrick.com/English/news/news-details/2020/Barrick-Back-in-Business-in-Tanzania/default.aspx
[116] https://www.barrick.com/English/news/news-details/2020/Barrick-Back-in-Business-in-Tanzania/default.aspx
[117] https://legal.un.org/avl/ls/Kilangi_S_video_1.html
[118] https://www.barrick.com/English/news/news-details/2020/barrick-partnership-with-tanzanian-government-delivers-first-major-outcomes/default.aspx
[119] https://www.reuters.com/article/us-tanzania-mining-barrick-gold/barrick-pays-tanzania-initial-100-million-after-gold-shipments-resume-idUSKBN23110W
[120] https://afcham-china.org/tanzania-acacia-mining-ceo-finally-admits-public-critics-may-valid-point/
[121] http://www.mining.com/acacias-hurdles-tanzania-hurts-barrick-gold-q3-output/ ; https://tanzaniabusinessethics.wordpress.com/2018/09/13/kelvin-dushnisky-accountable-for-crimes-violations-human-rights-abuses-damages/ ;  https://miningwatch.ca/sites/default/files/lettertokelvindushniskyandbradgordon2017-08-27.pdf?__cf_chl_jschl_tk__=13e8a22bc61ec821219255685bba9e1c771d045b-1599295990-0-AWcQoCbiKeMo4t8lNyb_U9b4J-4yoQPlSUh9iZanaqxpi4Lxw6OsJZULN8Af15qbGnqZa6xObWmmSEiO1G7f-FlVmT5efteinNNqisnZJxnLbrfpmxxaV_tXo4mPBeelDdAqrD2DEMBEh6FtG6LHj5lwAh_TteCwct-O15lDk1TX5AQ_h1h_j91s8XJqYFC1pxtc2Ug8aHlWRSP8bDYX6ItNEtprUyxm2q1PcxLmk3TpGhSoV2_AtBRki1Sp4Zt3bFB9KeSoUQ0eJF3J9OKTb_0YOG3Dnd4MD-ogarKnfPI0Q-GTq15YcykOtSpbKakqR2Qz1NJeaQBHvzkGWumDIjiz2iLNp6DxuB31rL_U2Tij
[122] https://www.reuters.com/article/acacia-mining-ceo/update-1-top-acacia-mining-bosses-quit-in-midst-of-tanzania-dispute-idUSL8N1N81RC ; http://www.chinagoabroad.com/en/article/acacia-mining-ceo-and-cfo-resign-following-tax-dispute-tanzania ; https://magazine.cim.org/en/news/2017/acacia-executives-announce-resignations/
[123] https://www.miningmx.com/news/gold/33645-anglogold-scores-coup-barricks-dushinsky-takes-ceo-mantle/ ; https://www.miningreview.com/top-stories/kelvin-dushnisky-resigns-acacia-mining/
[124] https://tanzaniabusinessethics.wordpress.com/2018/09/13/has-the-devil-come-back-to-tanzania-wearing-a-different-uniform/
[125] https://www.mining-journal.com/gold-and-silver-news/news/1392150/dushnisky-leaves-anglogold-after-short-stint-as-ceo
[126] https://seekingalpha.com/news/3598478-anglogold-asked-dushnisky-to-leave-after-fund-pressure-bloomberg ; https://www.businesslive.co.za/bd/companies/mining/2020-07-30-anglogold-ceo-kelvin-dushnisky-quits/
[127] https://www.thestar.com/opinion/letters_to_the_editors/2015/03/30/baird-timed-his-jump-perfectly.html
[128] https://nationalpost.com/news/canada/anonymous-threatens-to-decrypt-text-messages-from-john-baird-to-reveal-real-reason-he-left-politics ; https://tanzaniabusinessethics.wordpress.com/2018/09/13/kelvin-dushnisky-accountable-for-crimes-violations-human-rights-abuses-damages/ ; http://protestbarrick.net/article.php@id=1006.html
[129] https://web.archive.org/web/20071115204235/http://www.acdi-cida.gc.ca/CIDAWEB/acdicida.nsf/En/JUD-829101441-JQC ; https://www.unece.org/fileadmin/DAM/operact/Technical_Cooperation/CIDA_Final.pdf
[130] https://www.cbc.ca/news/politics/federal-budget-folds-cida-into-foreign-affairs-1.1412948 ; https://web.archive.org/web/20180117012133/ ; http://www.pco-bcp.gc.ca/index.asp?lang=eng&page=docs&doc=mog-ag-eng.htm
[131] Stephen Brown, Molly Den Heyer, David R. Black, "Rethinking Canadian Aid: Second Edition", University of Ottawa Press, Ottawa 2016, page 275;
[132] https://nowtoronto.com/john-baird-strikes-gold-with-barrick/ ; https://theplaidzebra.com/john-baird-promoted-mining-giants-interests-while-in-office-and-now-hes-working-for-them/ ; https://canada-haiti.ca/content/john-baird-strikes-gold-barrick-2-articles
[133] https://bulletin-archives.caut.ca/bulletin/articles/2011/11/noir-canada-defamation-lawsuit-settled-publication-of-book-stopped
[134] https://stluciatimes.com/tanzania-teacher-to-hang-for-killing-pupil/
[135] https://www.thecitizen.co.tz/news/Government-objections-against-Zitto-rejected-by-court/1840340-5496642-7hhq4r/index.html
[136] https://www.bloomberg.com/news/articles/2018-02-01/tanzanian-president-accuses-judges-of-graft-seeks-reforms
[139] https://www.law360.com/articles/1211597/barrick-reaches-300m-acacia-gold-settlement-with-tanzania
[140] https://www.bloomberg.com/news/articles/2018-02-01/tanzanian-president-accuses-judges-of-graft-seeks-reforms
[141] https://www.kimberleyprocess.com/
[142] https://www.un.org/press/en/2004/ga10238.doc.htm